EVENTS and OWN ACTIVITIES

Invitation to THE GUT GIRLS with Alumnae Theatre
The members of the Older Women's Network are invited to see select performances!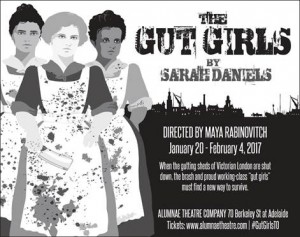 The play follows the fortunes of the proud and brash working-class gut girls. When the gutting sheds are shut and their way of life disappears, the girls must try and find a place in the new world order of late Victorian London. Commissioned to write a play that would appeal to unionized workers during the Thatcher era, British playwright Sarah Daniels' THE GUT GIRLS explores issues of women's and workers' rights, the burden of social expectations, and the struggle for self-worth.
Performances run Friday January 20th to Saturday February 4th, 2017, on Wednesdays, Thursdays, Fridays, and Saturdays at 8pm and Sundays at 2pm, at the historic Alumnae Theatre (Mainstage) located at 70 Berkeley Street in downtown Toronto.
 We would be happy to offer OWN members a discounted rate of $15 per ticket – $5 off the regular price! You can book these tickets online at AlumnaeTheatre.com/Tickets with the promo code GOODGUTS for the following performance dates: Fri Jan 20 8pm, Sat Jan 21 8pm, Thurs Jan 26 8pm, and Thurs Feb 2 8pm.  Please note that this promo code is available only online, not over the phone or in person. Please keep this code confidential, as it is exclusive to the OWN group.
You can also save with 2-for-1 tickets on Wednesdays, or get more savings by buying a Flex Pass: multiple tickets to share with friends for any performances by Alumnae Theatre Company! A 6-Ticket Flex Pass ($75) saves you $45; a 9-Ticket Flex Pass ($105) saves you $75. These can be purchased online at AlumnaeTheatre.com/Tickets or make a reservation at 416-364-4170 ext. 1 to pay cash at the box office. Sunday 2:00pm performances are Pay-What-You-Can – no reservations, cash only at the box office. Please note that these discount offers cannot be combined with the promo code offer detailed above.
---
Workshop for Midlife and Beyond
Audrey Danaher, a member of the Older Women's Network, is facilitating a workshop for women at midlife and beyond on Friday, January 20, at the Centre for Social Innovation, Annex, 720 Bathurst, 10:00am to 3:30pm, $75. See flyer for details:  Women and Possibilities January 20 2017.
---
New Year's Levee and Food Drive
Please join Adam Vaughan and his staff at a New Year's Levee to celebrate the start of 2017! Come and enjoy good food, warm drinks and family friendly activities. They will also be collecting non-perishable food items for those in need in our community. Here are the details:
Date:                  Sunday, January 15, 2017
Time:                 2:00 PM – 4:00 PM
Location:
Waterfront Neighbourhood Centre
627 Queens Quay West
Toronto, ON   M5V 3G3
Please RSVP here if you are able to attend.
If you are able, please bring non-perishable nutritious food items. Here are a few suggestions:
Canned Vegetables & Fruit
Canned Fish, Meat & Stews
Cereal (Whole Grains)
Dry Pasta & Sauce
Juice (Boxes or Cans)
Legumes (Canned or Dried)
Rice
Snacks (Think Nutritious!)
Soup
---
MEDIA RELEASE, Nov. 16, 2016
 On November 9th, the Older Women's Network (OWN) presented Living in Place and Universal Design Awards to five pioneers and supporters of barrier-free housing.
Jessica Hiseler accepted an award on behalf of AccessAbility Advantage, a collaboration between Quadrangle Architects and March of Dimes, honoured for leading the way, providing guidance to developers and builders.
Jacob Cohen, Director of Project Implementation at The Daniels Corporation, accepted an award for working with AccessAbility Advantage to move beyond the Building Code, and for beginning a collaboration with the Older Women's Network to build a fully universal design building.
Brian Davis, Executive Director of Houselink Community Homes, as well as Cathy Tafler and Doug Rylett of Tafler Rylett Architects were honoured for collaborating in the planning & building of a unique non-profit apartment building featuring full universal design enabling the organization to accommodate clients regardless of age or abilities.
Toronto City Councillor David Shiner, who was unable to attend due  to a City Council meeting, will be presented his award at a later date, celebrating his immediate and enthusiastic understanding the importance of universal design in housing.
Thea Kurdi, from DesignABLE Environments (www.designable.net), an experienced accessibility code consultant and universal design specialist, was the featured presenter.
The "Living in Place" event was organized to demonstrate to builders and developers that there is a market for barrier-free housing.  Over 4.4 million Canadians (one out of every seven) live with some form of disability. That's a substantial group of possible buyers who are generally overlooked by builders. The goal of this campaign is to have the Ontario Building Code changed to require that all new multi-unit residential buildings be fully universal design.
While OWN focuses on advocacy and public education, a sister organization, Unitarian Commons, is aiming to build the first universal design condominium to tackle the twin socio-health problems of isolation and barriers to mobility in homes. It is their hope that this pilot project will be replicated by others across Canada.
Reactions from participants:
"You are a fantastic industry expert, I learned so much at the Women's Network session that our team from front to back could significantly benefit from."
– Jennifer Weatherston, Director of Innovation & Estimating at Reid's Heritage Homes
"Thank you. It was a successful event. I know that a lot of work went into this. Congrats to all the organizers at OWN and to Thea for a great presentation."
– Hanita Braun, B.Arch., Executive Director, Verdiroc Development Corporation
Breakfast Television showed a segment on accessibility or the lack thereof:
http://www.bttoronto.ca/videos/5209458043001/
and did a facebook live conversation with Lepofsky:
https://www.facebook.com/BTtoronto/videos/1255817667773679/
For more information on this campaign, please go to our Housing section, the link is on the Menu above.
---
Seniors' Film Fridays at TIFF
The Bell TIFF Lightbox hosts Seniors' Film Fridays. For anyone interested, you can make inquiries about upcoming films by emailing toursandtalks@tiff.net.
The list of films is available here:  http://www.tiff.net/films-and-talks/
November 25th 'The Eagle Huntress'
December 16th 'Neruda'
Their Philanthropy & Membership department is producing their fall report which will emphasize the role of women in film. They reached out to Alexis Haradyn specifically with a desire to profile an attendee from the Senior's Film Friday programme. Naturally, since we are an advocacy group for senior women in Ontario, she thought of our group members right away! Do you happen to have an interest in being included in the report?  Contact Alexis Haradyn at 416-599-8433 x2181
E-mail: aharadyn@tiff.net
Free Concerts:  Click this link for information on free concerts.
---
Check Events at the Native Women's Resource Center here:
http://www.nwrct.ca/events/index.php
Ontario Health Coalition News and Events:
http://www.ontariohealthcoalition.ca/
Canadian Voice of Women for Peace:
http://vowpeace.org/event/
---
OWN Special Interest Groups Meetings
Please click on the link for more info on each.
Social Link:  First Saturday of every month, at the OWN office, 1:30 pm to 4:30 pm.
La Vie en Rose French group: Fourth Thursday of every month, at the OWN office, 1:30 pm.
Book Discussion Groups: Two are held at branches of the Toronto Public Library, and one at the OWN office; groups meet once a month. Each group decides on format, book selection and time of meeting.
In My Own Voice: The writers' group meets every first Tuesday of the month from 2 to 4 pm at the OWN office.
---
Library Events
A HEALTHY  NEW  YEAR:  these programmes are put on by the Toronto Public Health                            supported by:   torontopubliclibrary.ca
St.  Lawrence Branch, 171 Front Street East
Telephone:      416-393-7655
Tuesday January 10th @ 2:00p.m. – PREVENT  DIABETES  NOW!
Tuesday January 17th @ 2:00p.m. –  NUTRITION:    Part  1  Food Guide & Healthy Plate model
Tuesday January 24th @ 2:00p.m. –  NUTRITION:    Part  2  Nutrition Label reading & eating on a budget
Tuesday January 31st @ 2:00p.m. –  PEDESTRIAN  SAFETY
Workshops for Low Income Retirement - At various library branches, see the flyer for more information.
The workshop is geared to 55 – 64 years old individuals, but will benefit anyone who will rely mainly upon income security programs in their senior years. There are 9  workshops  taking place in Toronto Public Library branches  this fall; and 9 more will be offered in spring 2017.

Tea and Books : At the Mount Pleasant Library, and various other libraries  in the GTA area, usually at 2:00pm, once a month, please check with the individual libraries.
---
Events at Toronto's First Post Office
Toronto's first post office has all kinds of events coming up. Check the link below to see upcoming activities:
http://www.townofyork.com/events.html
---
Seniors on the Road – TVO
On August 15th, TVO presented a talk on Seniors on the Road.  Canada's aging population means a greater number of senior drivers, resulting in road safety concerns. Brenda Vrkljan encounters age and the ability to drive as a lead researcher for Candrive, a hub for information on older drivers. The Agenda in the Summer welcomes Vrkljan to discuss finding the balance between public safety and keeping seniors mobile.
Anyone interested can view it here, it is about 30 min long:
http://tvo.org/video/programs/the-agenda-with-steve-paikin/seniors-on-the-road?utm_source=facebook&utm_medium=social&utm_campaign=theagenda
---
Electronics Waste Drop-off
Non-profit Free Geek Toronto wants your laptops, desktops and other electronic waste (no more than 5 years old) to refurbish and resell at affordable prices. Their mission is to promote social and economic justice by reducing e-waste and increasing access to technology. www.freegeektoronto.org
---
---
---