EVENTS and OWN ACTIVITIES
Newsletter — Click on the link to read our latest Newsletter.  For older issues, click here.
Blogs – Several of our members have blogs. Click on the link to read them.
Upcoming — See below
Ongoing — Activities happening on a regular basis. Click on link.

OWN has been a unique voice for mid-life and older women for 31 years. Be proud of your membership, and renew NOW. If you are not a member, consider becoming one by going to our Membership page and apply to become one.
---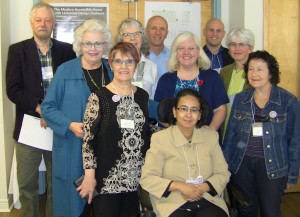 Universal Design Housing Group
---
The City of Toronto is participating in the Government of Canada's Smart Cities Challenge to develop ideas and innovative solutions to address important local issues.
You are invited to participate in one of five workshops hosted by Toronto Public Library on Wednesday, January 17 from 5:30-8:30 pm at 5 various library locations across the City. See links below.
Smart Cities Invite YorkWoods
Smart Cities Invite_TRL
Smart Cities Invite_Richview
Smart Cities Invite_Malvern
Smart Cities Invite_Albion
---
 Speakers Series: The Fight for Housing & Shelter
Thursday, January 18

|

6:00PM-8:00PM

|

CRC

,

40 Oak Street

(near Parliament and Gerrard)
Free event with a meal, childcare, wheelchair access and tokens.
Toronto is in the midst of a deadly crisis of homelessness. We know all three levels of government are responsible for creating the housing crisis and then refusing to deal with the consequences. But how exactly have they done this? What precisely is wrong with the Canadian housing policies? How to we make sense of the claims of "historic investments" in housing that the Liberals made when they announced the National Housing strategy last November? Will the strategy help poor and low-income people?
Over the past month we've won the opening of the armouries to provide immediate respite to the homeless but the fight for shelter is far from over. How do we build on the gains made to win adequate shelter in the coming months and housing for all?
Join us as discuss these and other important questions to understand the current crisis and strengthen the fight for shelter & housing.
Speaker: David Hulchanski
David is a professor of housing and community development in the Factor-Inwentash Faculty of Social Work at the University of Toronto.
Monthly Speakers Series – where we discuss issues critical to the success of poor people's movements. It's where we build our capacity to fight to win.
Ontario Coalition Against Poverty
157 Carlton St #201
Toronto, ON. M5A 2K3
Phone: 416 925 6939 – Fax: 1 855 714 0566 (toll free)
Website: ocap.ca Twitter: @OCAPtoronto
Facebook: facebook.com/OcapToronto
---
Women's March – Defining the Future – January 20th, City Hall – noon to 2 pm
Nathan Phillips Square
Toronto City Hall, 100 Queen St West
South east corner (look for the flags)
---
Here is an opportunity to provide public feedback on proposed amendments relating to home and community care. We should certainly be contributing our comments! Comments close Jan. 30, 2018.

Strengthening home and community care is a key government commitment. Patients First: A Roadmap to Strengthen Home and Community Care outlines a 10-point, three-year …
---
Have you visited our Facebook page for "Living in Place"?
https://www.facebook.com/livinginplaceON/
Please visit, like & post re need for accessible housing, and please invite your friends to check out this Facebook page too.
Some great holiday reading for supporters of the "Living in Place" movement
(in case you are looking for something to do )
1. Doing Democracy: The MAP model…" by Bill Moyer
This book is in the Toronto library.
You don't need to read the entire book, if you are short of time. The first half is the important part. He describes the 8 stages of any movement. "Living in Place" is just at stage 2. we have a long way to go. But we can speed it up. However, we must avoid discouragement. Great wisdom & strategy.
2. "This is an Uprising" by Mark Engler & Paul Engler
A new book. Paperback. Toronto library has 4 copies and there are no holds right now.
Analysis of non-violent strategy. Excellent as supplement to the other book, & quotes Bill Moyer.
Read them to glean lots of great ideas for our campaign.
---
Petition promoting physical and social inclusion for people of all abilities.
http://www.theforwardmovement.ca/
---
Toronto Rehab is looking for people 60 and older, for a study they are conducting right now.  They are looking for healthy walkers over the age of 60 to participate. This study is investigating the impact of walking up and down ramps of various inclines on balance control.  For details see:  Poster – Healthy persons over the age of 60 needed for walking and balance study
---
Housing announcement for all OWN members:
UNIVERSAL DESIGN HOUSING OPPORTUNITIES
The OWN housing committee thanks two companies for listening to our call for improved accessibility in housing. These announcements come as a result of several years of negotiations.
Options for Homes:
OWN's sister organization, Unitarian Commons, has been offered 30 units of universal design co-housing in each of 2 new Toronto developments by Options for Homes.
Locations:
Front St & Cherry St. (sharing the site with a new long term care facility),
and Sherbourne & Carlton (opposite Allen Gardens).
Both buildings will be completed in about 4 years.
If you would like to buy a universal design condo unit at one of these sites, please send an email, stating your preferred location, to info.unitariancommons@gmail.com
More detailed information will be available later in the fall and you will then be invited to a sales meeting.
Daniels Condos:
Daniels Corp. has agreed to include universal design suites in their new DuEast condo in eastern Regent Park.
Daniels has initiated a program that aims to improve the barrier-free suites so they can truly be liveable for someone using a mobility device. The following improvements will be made to the typical Barrier Free suites at no additional cost to anyone who requests it (in designated Barrier Free suites only):
– Power door operator (PDO) rough-in for entry into the suite
– All doors within suite will offer a minimum 860 mm clear
– All doors will have the required 600/300 mm latch side clearance
– Roll out balcony
– Roll out shower
– Accessible roll-under sink in accessible washroom
– Option to opt for alternate accessible kitchen with lowered counters and
additional features
DuEast is scheduled to be offered for sale in October 2017 and more information will become available closer to the sale date. You can visit Daniels website www.danielsdueast.com and register your interest.*
*Note: Please be sure to add a comment, on any line of the registration form, stressing that you want a universal design unit.
Daniels also have another condo with accessible unit options launching this August in Mississauga. You can find information on that at http://danielscitycentre.com/
---
Article in the Toronto Star on OWN author Velma Demerson:
https://www.thestar.com/yourtoronto/once-upon-a-city-archives/2017/07/20/the-incorrigible-women-of-the-female-refuges-act.html
---
DEAR MEMBERS
OWN has been a unique voice for mid-life and older women for 31 years. We look back with satisfaction on an amazing journey while looking forward to supporting women's greater representation on power and decision making bodies at all levels of government. Please continue to support us in our vital work together by:
Renewing your membership at only $50 per year
Making a donation to Anam Cara, which honours women who have made a difference in the lives of others
Considering a donation to the Joan Campbell Housing Fund
Be proud of your membership, and renew NOW. If you are not a member, consider becoming one by going to our Membership page and apply to become one.

Thank You!
OWN Membership Committee
---
Haya Fernandez is doing research at the University of Waterloo, looking at older adults with epilepsy. She is looking for people to participate. If interested, please see the flyer for more on this project and for contact information.
---
Paid Study – 
between 55 and 79 years old
---
http://www.socialplanningtoronto.org/updates
Social Planning Toronto – invites you to join in a series of discussions.
---
---
---
Questionnaire: Creating an Age-Friendly Toronto
http://cityoftoronto.fluidsurveys.com/s/tss/
---
ONGOING:
Seniors' Film Fridays at TIFF
The Bell TIFF Lightbox hosts Seniors' Film Fridays. For anyone interested, you can make inquiries about upcoming films by emailing toursandtalks@tiff.net.
The list of films is available here:  http://www.tiff.net/films-and-talks/
All Screenings run at 11am.
Their Philanthropy & Membership department is producing their fall report which will emphasize the role of women in film. They reached out to Alexis Haradyn specifically with a desire to profile an attendee from the Senior's Film Friday programme. Naturally, since we are an advocacy group for senior women in Ontario, she thought of our group members right away! Do you happen to have an interest in being included in the report?  Contact Alexis Haradyn at 416-599-8433 x2181
E-mail: aharadyn@tiff.net
The TIFF 2017 Winter Action Report, featuring OWN, is live on the web!  Click on the link below:
http://www.tiff.net/action-report/
From Alexis Haradyn:
I want to extend a most sincere thanks to all of you for your interest and participation in our inaugural year of Seniors' Film Friday at TIFF!
It was such a pleasure to welcome you and your groups to experience film and conversation in a meaningful way. We hope to be able to continue this programme and should have updates in the coming weeks.
As for me, I will be enjoying a summer abroad in Europe, and will be moving on from TIFF. It was my pleasure to serve you and I sincerely hope you will continue to enjoy this and other programmes at TIFF in the future!
If you have any questions, please continue to direct them to this email address.
With thanks and very best wishes,
Alexis
TIFF Bell Lightbox
Reitman Square, 350 King Street West
Toronto, ON  M5V 3X5 CANADA
Tel: 416-599-8433 x2181
E-mail:toursandtalks@tiff.net
Free Concerts:  Click this link for information on free concerts.
---
Check Events at the Native Women's Resource Center here:
http://www.nwrct.ca/events/index.php
Ontario Health Coalition News and Events:
http://www.ontariohealthcoalition.ca/
Canadian Voice of Women for Peace:
http://vowpeace.org/event/
Church of the Redeemer:
http://www.theredeemer.ca/Page/NewToRedeemer.html
---
OWN Special Interest Groups Meetings
Please click on the link for more info on each.
Social Link:  First Saturday of every month, at the OWN office, 1:30 pm to 4:30 pm. (Suspended for March and April 2017).
La Vie en Rose French group: Fourth Thursday of every month, at the OWN office, 1:30 pm.
Book Discussion Groups: Two are held at branches of the Toronto Public Library, and one at the OWN office; groups meet once a month. Each group decides on format, book selection and time of meeting.
In My Own Voice: The writers' group meets every first Tuesday of the month from 2 to 4 pm at the OWN office.
---
Library Events
A HEALTHY NEW YEAR: these programmes are put on by Toronto Public Health
supported by:   torontopubliclibrary.ca
St.  Lawrence Branch, 171 Front Street East
Telephone:      416-393-7655
Workshops for Low Income Retirement - At various library branches, see the flyer for more information, location, dates and time of the workshop.
The workshop is geared to 55 – 64 years old individuals, but will benefit anyone who will rely mainly upon income security programs in their senior years. There are 9 workshops taking place in Toronto Public Library branches in Spring 2017. The goal of this workshop is to provide low-income attendees, in plain language, with a complete picture of benefits available to them, explain how these benefits interact, and outline best strategies for long term retirement planning on a very limited income.  John Stapleton, Metcalf Foundation Fellow and social policy expert, is the presenter.
The impact of the series cannot be overstated.  Mainstream financial advice is in most cases, inappropriate and detrimental to low-income earners.  For example, advising a low-income person to save within an RRSP, can be very bad advice as it reduces their Guaranteed Income Supplement.  Simply put, this information is not readily available elsewhere, and fills a real need.
Tea and Books : At the Mount Pleasant Library, and various other libraries  in the GTA area, usually at 2:00pm, once a month, please check with the individual libraries.
---
Osgoode Hall Law School York University 4700 Keele Street Toronto, ON, M3J 1P3: Research Email: adr@osgoode.yorku.ca Phone: (416) 736-5771
---
Events at Toronto's First Post Office
Toronto's first post office has all kinds of events coming up. Check the link below to see upcoming activities: http://www.townofyork.com/events.html
---
Seniors on the Road – TVO
On August 15th, TVO presented a talk on Seniors on the Road.  Canada's aging population means a greater number of senior drivers, resulting in road safety concerns. Brenda Vrkljan encounters age and the ability to drive as a lead researcher for Candrive, a hub for information on older drivers. The Agenda in the Summer welcomes Vrkljan to discuss finding the balance between public safety and keeping seniors mobile.
Anyone interested can view it here, it is about 30 min long:
http://tvo.org/video/programs/the-agenda-with-steve-paikin/seniors-on-the-road?utm_source=facebook&utm_medium=social&utm_campaign=theagenda
---
Electronics Waste Drop-off
Non-profit Free Geek Toronto wants your laptops, desktops and other electronic waste (no more than 5 years old) to refurbish and resell at affordable prices. Their mission is to promote social and economic justice by reducing e-waste and increasing access to technology. www.freegeektoronto.org
---
---
June 2017 Newsletter