UPCOMING EVENTS
---
EQUALITY DAY APRIL 17, 2016
Celebrate yourself on Equality Day, Sunday April 17th, 3:00pm – 5:00pm
Featuring the Honourable Carolyn Bennett, Minister of Indigenous and Northern Affairs
Place:  Meeting Room, 115 The Esplanade
Please RSVP to 416-214-1518 by April 13, 2016 as space is limited
See flyer for more info – Equality Day Flyer 2016
---
Death Cafe April 20th
Need to discuss choices relating to death, memorial, wills, etc.?  Come to the next Death Cafe, which will take place on Wednesday April 20, 2016 at the Mount Pleasant Visitation Centre from 7 – 9 pm.  Please see the flyer for more information. If you like to reserve your spot, please reply and you will be provided with more information.
Death Cafe is a discussion group rather than a grief support or counselling session. At Death Cafe we endeavour to create a safe space in order to openly discuss all aspects of death (and life!) with no agenda, objectives or themes.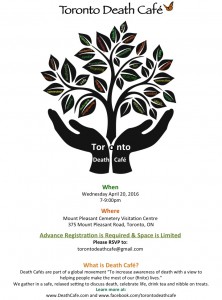 ---
Toronto Women's City Alliance will be hosting a Civic Engagement Cafe
TWCA will host this Women's Café :  Monday, May 15, 2016, 6 pm @ Metro Hall, Room 304. See flyer for more details.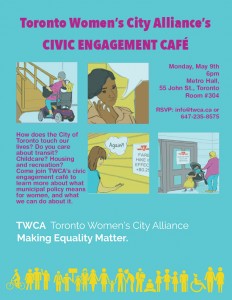 ---
HAVE YOU BEEN CHARGED USER FEES FOR HEALTH CARE?
 Survey on Privatization of Public Health Care and its Impact on Patients
 This survey is being conducted by the Ontario Health Coalition, a public interest group dedicated to protecting and improving public health care. The survey takes most people less than 5 minutes to complete and almost everyone finishes within 10 minutes.
You can do the survey by printing the attached .pdf file, filling it in and sending it back to the Ontario Health Coalition by  May 31, 2016.
Our address and contact information are below and on the attached survey.
OR – You can do the survey online at:  https://www.surveymonkey.com/r/OHC-user-fees-survey
OHC Survey About Extra Billing – User Fees For Health Care
---
Check Events at the Native Women's Resource Center here:
http://www.nwrct.ca/events/index.php
Ontario Health Coalition News and Events:
http://www.ontariohealthcoalition.ca/
Canadian Voice of Women for Peace:
http://vowpeace.org/event/
---
OWN Special Interest Groups Meetings
Social Link:  First Saturday of every month, at the OWN office, 1:30 pm to 4:30 pm.
La Vie en Rose French group: Fourth Thursday of every month, at the OWN office, 1:30 pm.
---
Library Events
Tea and Books : At the Mount Pleasant Library, and various other libraries  in the GTA area, usually at 2:00pm, once a month, please check with the individual libraries.
---
---
Electronics Waste Drop-off
Non-profit Free Geek Toronto wants your laptops, desktops and other electronic waste (no more than 5 years old) to refurbish and resell at affordable prices. Their mission is to promote social and economic justice by reducing e-waste and increasing access to technology. www.freegeektoronto.org
---
---
---